Features
MediaZilla is a purpose-built system for securely storing and managing video assets at any scale.

From fragmented workflows across different software and constant client requests to strict paywalls and subpar viewing experiences, MediaZilla solves the biggest pain points of professional video delivery.

Check out our features below to learn about how MediaZilla offers solutions for you:
Video Content Management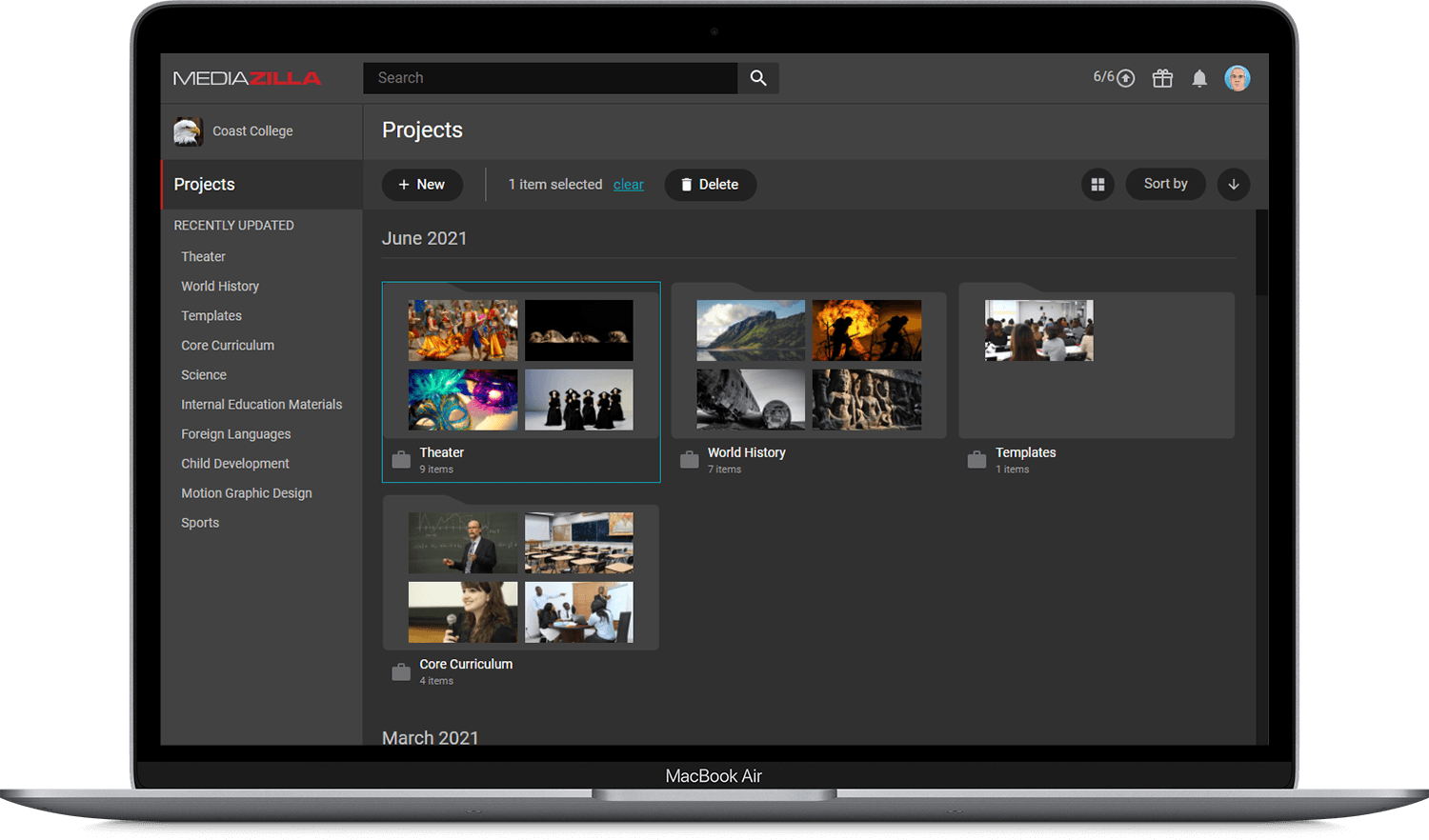 Video assets are unique from any other file type and should be managed as such. Between all the different playback devices and available bandwidth today, videos must be streamed in different resolutions and bitrates so as to not compromise the viewing experience.
Platforms not specializing in video (i.e. Google Drive, Dropbox...) treat video content management as an afterthought. MediaZilla's mission IS delivery.
Multi-user Access and Roles
Add team members and grant them access to all projects or just the ones they create. It's up to you.
Express Content Organization
Upload, move and delete content rapidly in bulk using our select-multiple feature.

Cut out that extra step of converting videos to different formats just to upload, with MediaZilla's scaled video compatibility.

Search your entire library or specific projects to quickly locate videos, collections and folders using an optimized filter-search.

By streamlining content organization, your team will get back precious time for bigger tasks.
Easy Viewing Anywhere
Viewers can instantly cast or stream their projects to any device with the free MediaZilla app. Now supporting the latest 4K Ultra HD and HDR formats.
Branded, Secure and Permanent
Video delivery is typically unrestricted, meaning room for unwanted viewers and access. MediaZilla's robust architecture, built on Amazon Web Services, provides top-level security by encrypting all content via https, with no public index of MediaZilla content. You are always in control of who receives and accesses projects.
Additionally, viewers have forever access to their projects once delivered, enabling them to easily share/download the videos at your discretion.
Content can also be packaged for offline viewing through simple export, keeping your custom interactive menus versus individual files dumped on a drive.
Premium Delivery, Premium Viewing
Unlike other platforms that serve only to host video, MediaZilla is all about delivery. From professional editing software to branding content & invitations to a cinema-worthy viewing, MediaZilla offers a toolkit designed by industry experts and perfected by member feedback.
Easily present multiple videos with an engaging menu infinitely customizable from scratch or from easy-to-use templates.
Send, track and verify delivery of all content with MediaZilla's analytic tools. Then, make real-time updates to content or access, providing viewers immediately updated versions.